Belts for Rollermill
Product introduction

Structure

Available profiles

Download
This belt for rollermill combines two of product technologies.
On one side the belt has a tooth profile of synchronous belt, and on the other side, it has a profile of ribbed v belt.
This combination of both timing and friction technology is required to mill grain into fine flour quality.
It combines the best of two worlds: optimized efficiency from a synchronous drive and ability to slip when blocked or overloaded from a would break, when this occurs.
* Chloroprene body provides protection against oil, grease, heat and aging.

* Glass fiber cords provides high strength, good flexing performance, and low elongation.

* Nylon fabric tooth facing provides resistance to abrasion and tooth shear.


| | | |
| --- | --- | --- |
| Type | Pitch Length(mm) | Width(mm) |
| 1880-RPP10M-17PL | 1880 | 79.9 |
| 1760-RPP10M-17PL | 1760 | 79.9 |
| 1760-RPP8M-12PK | 1760 | 42.72 |
| 1760-RPP8M-24PK | 1760 | 85.44 |
| 1760-RPP8M-28PK | 1760 | 99.68 |
| 1760-RPP8M-26PL | 1760 | 122.2 |
| 1552-S8M-30PK | 1552 | 106.8 |
| 1552-S8M-16PK | 1552 | 56.96 |
| 1552-S8M-14PK | 1552 | 49.84 |
| 1600-S8M-12PK | 1600 | 42.72 |
| 1200-S8M-12PK | 1200 | 42.72 |
| 1400-8M-12PK | 1400 | 42.72 |
| 1600-8M-12PK | 1600 | 42.72 |
| 1680-8M-12PK | 1680 | 42.72 |
| 1760-8M-12PK | 1760 | 42.72 |
| 2000-8M-12PK | 2000 | 42.72 |
| DPL1765-22PL | 1765 | 103.4 |
| DPL1765-26PL | 1765 | 122.2 |
| DPL1965-22PL | 1965 | 103.4 |
| DPL1965-26PL | 1965 | 122.2 |
| 425-5M-25 | 425 | 25 |
| 420-5M-25 | 420 | 25 |
| 350-5M-25 | 350 | 25 |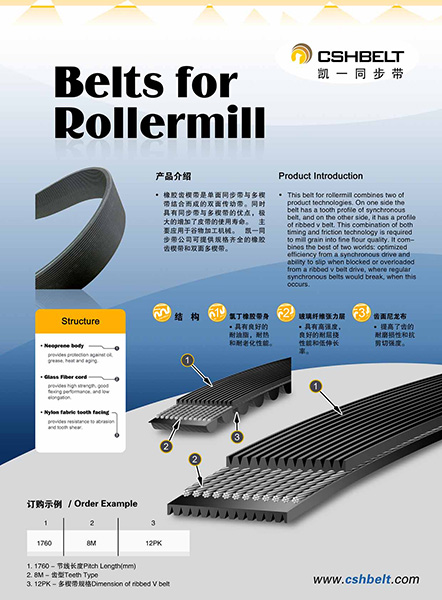 CSH ROLLERMILL BELTS